Waterfalls
Waterfalls are our specialty. At Brookside, we take a lot of time and care in the placement of each and every boulder in a waterfall design. Our professionals in the field have an eye for this and the experience to get it right. Our waterfalls fit naturally into the landscape, cascading in just the right places and flowing beautifully from one level to the next . Waterfalls range widely in size, structure and volume, from 250 linear feet with 50 feet of vertical elevation change, flowing into a pond or pool, down to to small vertical drops in a stream. We have constructed all of these types of falls.
Brookside Contracting is one of the few companies that do shot-crete shells for our waterfalls. This is the base on which the waterfall is built and it will last a lifetime. Part of our specialty is using native materials, weathered limestone and Meramec gravels to create a more natural scene. We do, however, use other materials in accordance with customer preference. And we work with top professionals to provide the right equipment packages to meet the flow expectations of the customer or design. We believe the most successful waterfalls are the ones that look like they formed naturally in the landscape and that can stand the test of time.
We are often called on to consult on or replace others' work that has not held up over time. Some of our most distinctive and highly visible waterfalls can be found at the state capitol in Jefferson City, at the Charter Communications building at Hwy 270 North and Manchester Road, at Bellefontaine Cemetery and Arboretum in the City of St. Louis, at Delmar Gardens corporate office in Chesterfield, and at O'Fallon Family Sports Park, in O'Fallon, Illinois.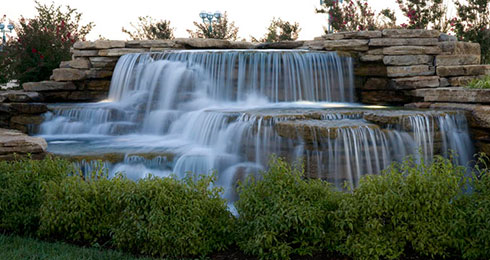 O'Fallon Sports Park, O'Fallon, MO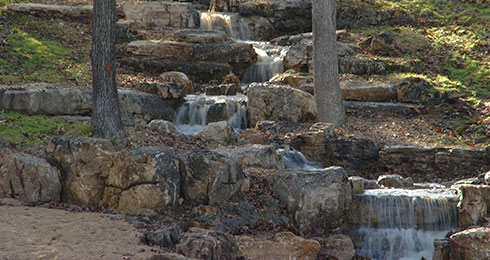 Private Residence, Bonne Terre, MO