Boulder Walls and Gardens
Boulder walls range from something as simple as a 2 foot tall transition from one elevation to another, to a 15 foot wall engineered to support property. At Brookside Contracting, we have experience with both and everything in-between. We work with designers and engineers to enable a homeowner or corporate customer to achieve the level of retainage necessary. We offer multiple material options in various price ranges to help customers achieve the appearance they desire. Boulders can be placed strategically in the landscape as well to create many different natural looks and opportunities for planting.
At Brookside, we take special care with the placement of boulders. With boulder placement it is easy to tell when thought and care have gone into the process. The result is that the boulders look as if they belong naturally in the landscape. We have had comments from several customers about the time and care we take in the placement of our boulders, whether in a wall, rock garden or as part of one of our water features. Our boulder work can be seen on almost all of our jobs, but is most extensive on our waterfall and pond projects, some of which can be seen at the state capitol in Jefferson City, the Charter Communications building at Hwy 270 North and Manchester Road, at Bellefontaine Cemetery and Arboretum in the City of St. Louis, at Delmar Gardens corporate office in Chesterfield, and at O'Fallon Family Sports Park, in O'Fallon, Illinois.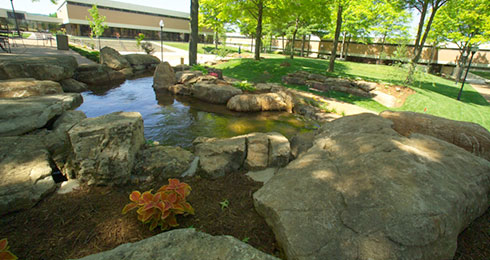 Mineral Area College, Park Hills, MO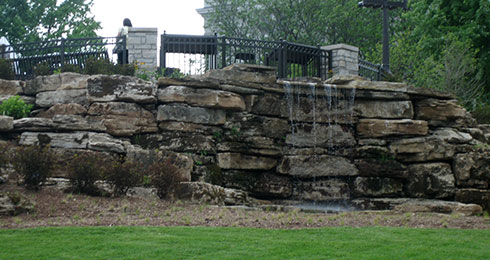 Lewis & Clark Trailhead Park, Jefferson City, MO